Good Samaritan Health & Wellness Center – Jasper, GA
Good Samaritan Health and Wellness Center is taking every precaution to ensure the safety of our patients and staff in light of the novel coronavirus, COVID-19. We have implemented Telehealth visits for those that prefer not to come into the office. Plexiglass partitions have been placed at all reception areas and the pharmacy counter. New furniture was purchased for our waiting areas which includes plexiglass partitions to aid in social distancing.
Good Samaritan has implemented a mask policy that states, "Due to the increasing number of infections of COVID-19 in our community, Good Samaritan Health & Wellness Center will require every patient, staff, volunteer and all others who enter the building to wear a face mask or facial covering, covering the nose and mouth while they are in the building. The only exceptions will be if someone is eating or drinking during breaks but they must maintain social distancing or working in a private office area were no other people are present. Social distance when possible. Patients that refuse to follow this policy will be offered the option of a televisit."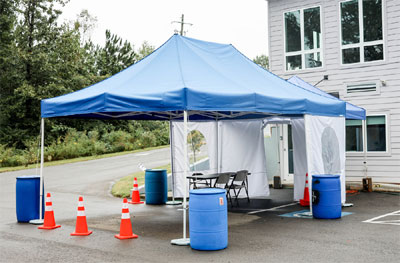 Good Samaritan also purchased tents to provide limited contact, drive-thru COVID-19 testing to our community. Patient's must make an appointment, but tests are offered at no cost. We offer standard tests as well as rapid tests.
For more information on COVID-19 please visit the CDC website.
Thank you all for your support during this time and for keeping our patients and staff safe.
COVID-19 Vaccine
Good Samaritan is a Moderna COVID-19 Vaccine distributor. If you are interested in receiving the COVID-19 vaccination please fill out the form to the right. This form will place you on our list to receive a vaccination. We will contact you to schedule your appointment.
For more information please visit the Georgia Department of Health website at https://dph.georgia.gov/covid-vaccine.
Sign up for COVID-19 Vaccine
Clinic Hours: Monday, Tuesday, Wednesday & Friday: 8:30 am to 5:00 pm | Thursday: 8:30 am to 8:00 pm
Pharmacy Hours: Monday, Tuesday, Wednesday & Friday: 9:00 am to 5:00 pm | Thursday: 9:00 am to 8:00 pm
Pharmacy is closed for lunch from 1:00 pm to 2:00 pm every day.
Good Samaritan
Health & Wellness Center
175 Samaritan Drive
Jasper, GA 30143