Good Samaritan Health & Wellness Center – Jasper, GA
Good Samaritan Health and Wellness Center is taking every precaution to ensure the safety of our patients and staff in light of the novel coronavirus, COVID-19. We have implemented Telehealth visits for those that prefer not to come into the office. Plexiglass partitions have been placed at all reception areas and the pharmacy counter. New furniture was purchased for our waiting areas which include plexiglass partitions to aid in social distancing. Please follow the current CDC mask guidelines and maintain social distancing whenever possible.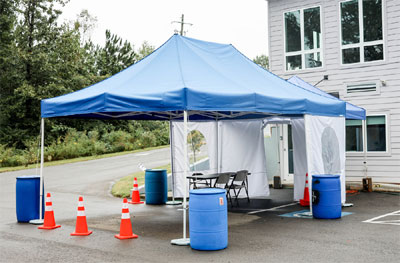 Good Samaritan also purchased tents to provide limited contact, drive-thru COVID-19 testing to our community. Patient's must make an appointment for COVID testing.
For more information on COVID-19 please visit the CDC website.
Thank you all for your support during this time and for keeping our patients and staff safe.
Clinic Hours: Monday, Tuesday, Wednesday & Friday: 8:30 am to 5:00 pm | Thursday: 8:30 am to 8:00 pm
Pharmacy Hours: Monday, Tuesday, Wednesday & Friday: 9:00 am to 5:00 pm | Thursday: 9:00 am to 8:00 pm
Pharmacy is closed for lunch from 1:00 pm to 2:00 pm every day.
This health center receives HHS funding and has Federal PHS
deemed status with respect to certain health or health-related claims, including medical malpractice
claims, for itself and its covered individuals.
Good Samaritan
Health & Wellness Center
175 Samaritan Drive
Jasper, GA 30143